Jurassic World: Dominion Dominates Fandom Wikis - The Loop
Play Sound
Abel's Story is a spin-off strip, chronicling the past life of Abel Rewanz. It is updated on Sundays. The first part can be found here, and the second part can be found here. The strip is rated NC-14 as opposed to DMFA's more modest PG rating, and as a result contains more aggressive language, situations and overall, a far darker outlook than the main DMFA strip, including the deaths of several important characters.
Owing to the fact that it is set approximately 400 years before the DMFA present day, most of the characters featured are new. A list of characters in the Abel's Story arc can be found here.
The Wallpaper War
[
]
The strip itself was the result of a Wallpaper War, pitting Abel against Regina - the character receiving the most donations would get a desktop-sized picture, and if the donations exceeded $1200, a special Saturday series detailing their backstory.
Among the speculation was the question of what happens if both characters exceeded $1200, which later led to the idea of trying to scrounge both backstories by raising $2400 in total. Having been bitten by an earlier war which she forgot to 'lock' (owing to a 5-day update week throwing her schedule and resulting in a forum conspiracy to force a draw), Amber blanked out the amounts during the final few days of the drive.
As with previous wars, Amber drew a number of amusing banners as the amounts increased. They can be found here. As can be observed, Regina was tipped to win and some forum members held a grudge about the sudden reversal for many months to come.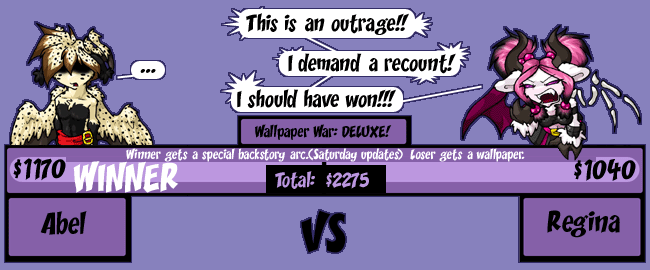 Current Status
[
]
Originally conceived as a short six-month run, the strip has apparently grown far beyond Amber's original plan, the first episode having been 'aired' on the 15th of October 2005 and so far having covered only the first 24 of Abel's 399 years (as of February 2007).
The first part of Abel's Story, "Summer of Youth," concluded on December 9, 2007. Part two, "Break," began January 5, 2008.
Timeline:
1591 Zelith: Abel is born
-1597 Zelith: The Rewanz family moves to Zinvth
1615 Katith: Cynthia commits suicide; Abel goes to her funeral. He meets Devin for the first time in many years and Xander for the first time. They escort him to the nearest post where they are killed and Abel's cubi powers manifest with his headwings. Aniz discovers Abel is a cubi.
-1655 Katith: Fa'Lina tells Abel that the time has come to visit May before she dies.
See also
[
]